4 Healthy & Easy Vegan Meal Ideas
4 Healthy & Easy Vegan Meal Ideas
Thinking of unleashing your inner Jamie Oliver with all this spare time?
We've partnered with the talented Elyssa Zancan from @delysscious_ to help you unleash your culinary expertise!
But first, a bit about the glorious Elyssa...
She's a plant-based nutritionist sharing her love for delicious meals and self-love through her Instagram - @delysscious_. With so much passion and inspiration inside of her, she took the plunge earlier this year to start sharing it with the world and she hasn't looked back since!
With COVID-19 bringing so much uncertainty, Elyssa is working harder than ever to guarantee that your dinner is always nutritious & tasty 🤤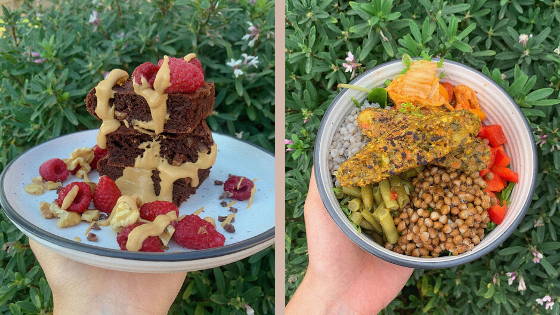 1. VEGAN LOADED BUDDHA BOWL
This bowl is the perfect autumn lunch or dinner that is super high in vegan protein, covers ALL of the recommended major food groups and most importantly - nourishes the soul.
Ingredients:
• ¼ Cauliflower 
• Kale 
• Tofu 
• Brown rice and quinoa blend 
• 100g edamame (measured with skin on) 
• Handful of cherry tomatoes 
• ¼ Yellow capsicum 
• ½ Avocado 
• Oil for cooking (I used coconut oil) 
• PaprikaHarissa spices 
Optional:
• Sesame seeds 
• Marion's kitchen miso & sesame vinaigrette
• Lime juice 
• Salt and pepper to season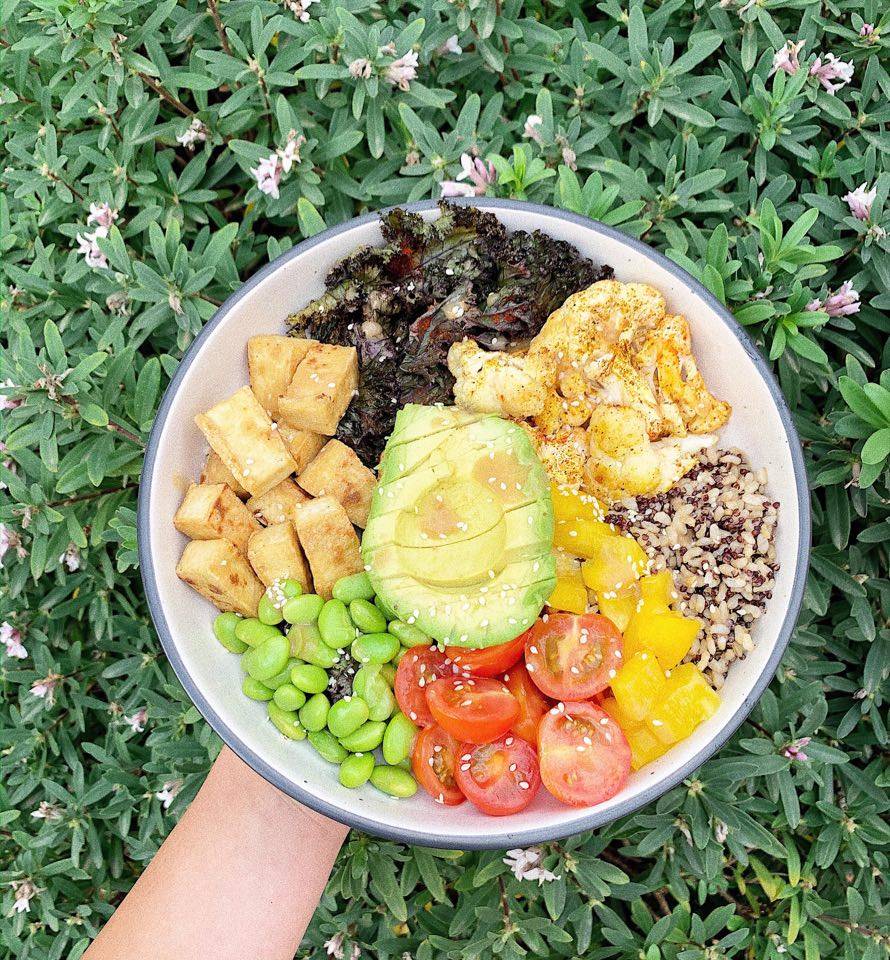 Method: 
Roasted Cauliflower
1.Line baking tray with baking paper
2. Scatter chopped cauliflower
3. Add drizzle of oil, paprika and harissa spices
4. Cook for 25 minutes 
Crispy Kale 
1. Line baking tray with baking paper
2. Scatter kale leaves 
3. Add drizzle of oil, paprika and harissa spices
4. Cook until crispy at tips 
 Tofu
1. Dice desired tofu into 1cm blocks (I used Nature's kitchen firm tofu)
2. Add ½ teaspoon of oil to frypan on low-medium heat
3. Add tofu, rotating to each side as blocks begin to brown
*ASSEMBLE YOUR BOWL* 
 Once key pieces have been prepared it's time to assemble! 
1. Add your roasted cauliflower, kale and tofu to a large dinner plate or bowl. 
2. Peel and add edamame beans 
3. Chop and add cherry tomatoes, capscium and avocado
4. Add any cooked rice or grain (I used microwaved quinoa and brown rice mix)
5. Add desired toppings: I added Marion's kitchen Miso & Sesame vinaigrette, lime juice, salt and pepper
6. Sit down and enjoy! 
Feeling something a little fresh, Asian in cuisine and super healthy? 
Rice paper rolls take only 10 minutes to prepare and can be altered to include as many yummy fillings as you like.
Ingredients:
• Rice paper (I used Pandaroo vietnamese style rice paper)
• Konjac spaghetti (slendier brand is amazing!! Only 10 calories per 100g) 
• Macro slightly firm tofu 
• Cucumber 
• Salad mix
• Avocado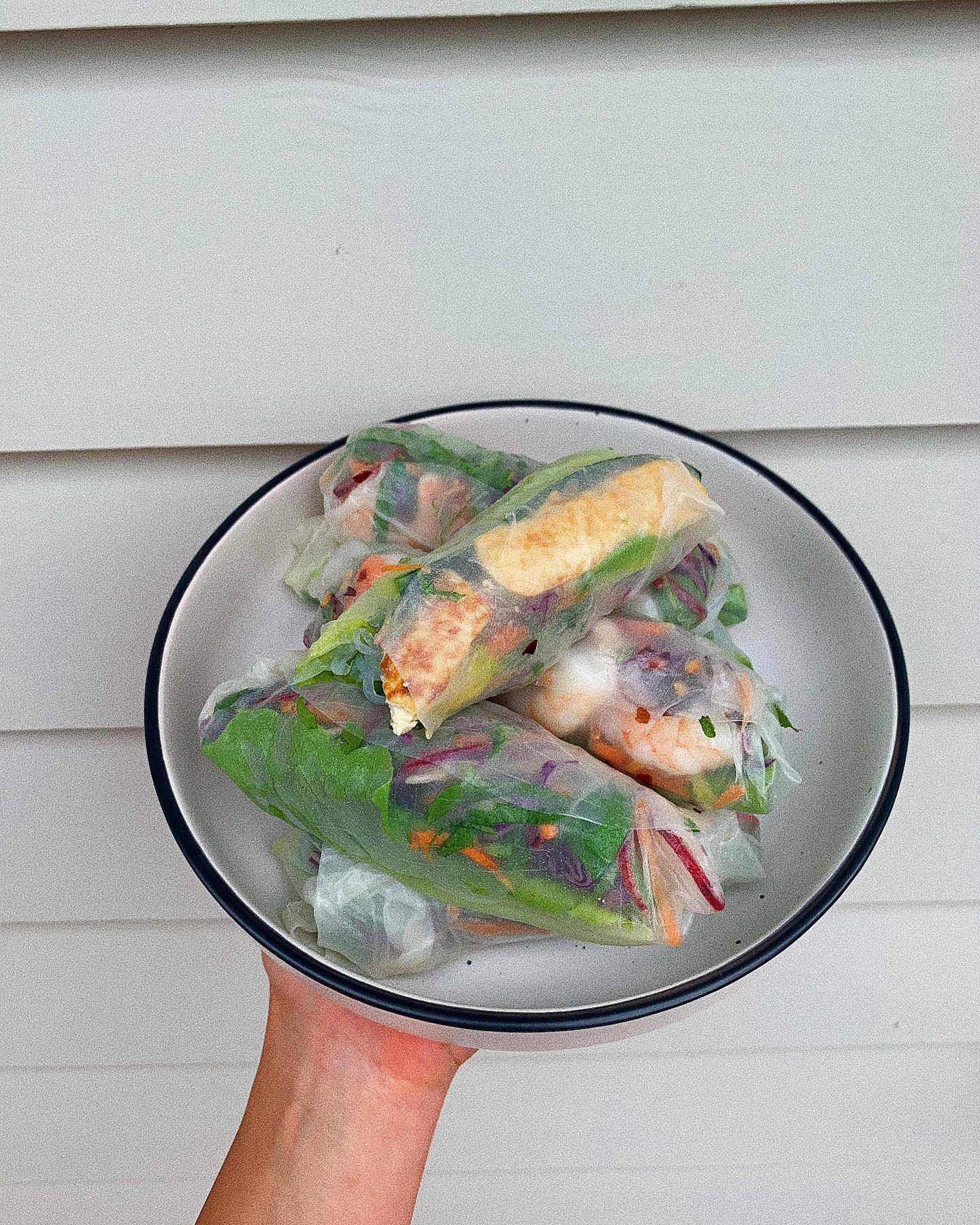 Method: 
1. Cook tofu evenly on each side, pat dry in paper towel
2. Cut all vegetables
3. Rub rice paper in warm water until soft
4. Place fillings in any order in center of paper
5. Fold in on itself, fold in corners, fold again 
6. Enjoy! 
You're spending a little more time at home? Looking for something super delicious, high in protein, easy to make and will keep you fuller for longer? 
Well this is the recipe for you!
Ingredients:
• Noodles or noodle alternative (I used a chickpea fettuccine by Eco Organics - such an amazing alternative and 42g of protein in just 1 serve!)
• 3 cloves of garlic (minced fine)
Ginger paste
• Fresh chilli (alter to your liking)
• ⅓ cup of tamari (or soy sauce)
• 1 tbsp coconut sugar
• Vegeta stock
• 2 tsp cornflour
• Tofu
• Lime juice
• Favourite vegetables (broccoli, zucchini, carrot and kale)
• Olive oil for cooking 
Toppings:
• Cashews
• Sesame seeds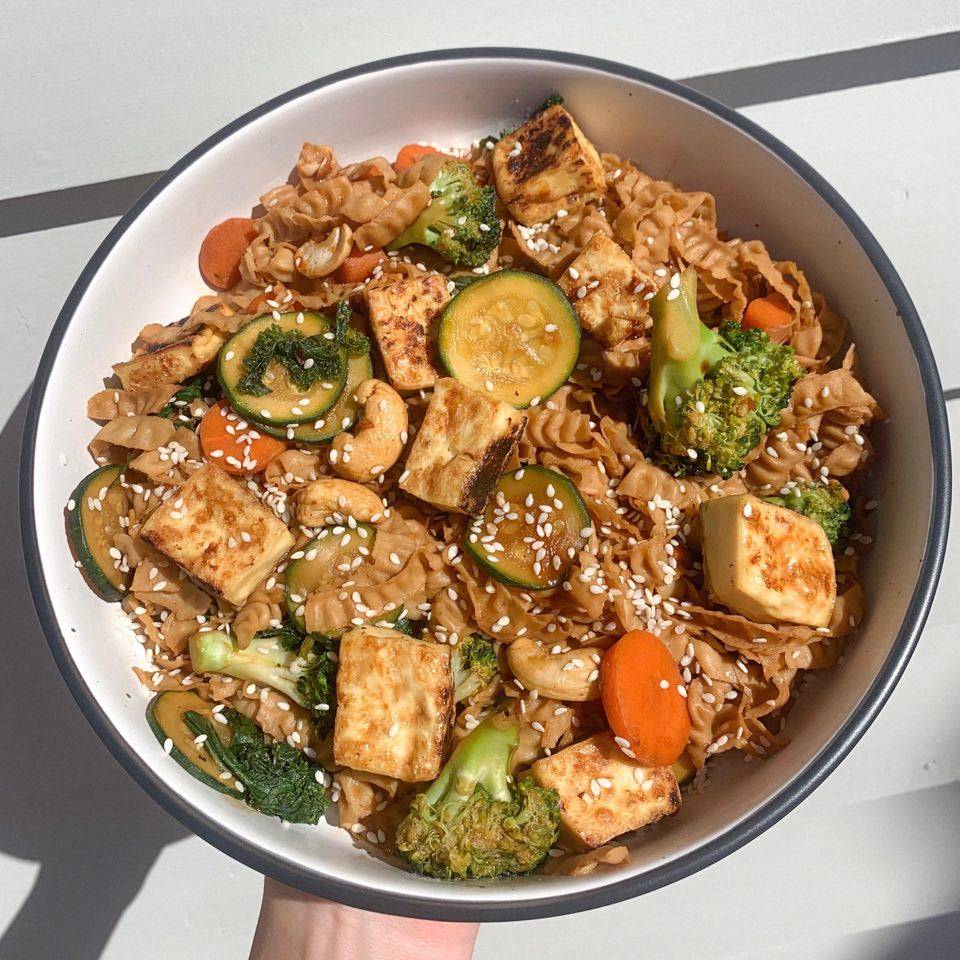 Method: 
1. Add ginger, garlic, chilli, vegeta, coconut sugar, cornflour and tamari to a container. Shake and set aside. This will be your sauce
2. Cut up your favourite vegetables however you prefer them cut (keeping in mind to separately cook any solid vegetables prior to combining
3. Boil water for chickpea fettuccine. Add in one boiled. Cook for 6 minutes. Remove, let drain and rest
4. Dice up desired tofu (can alter to chicken or other preferred protein source) into 1cm blocks. Add ½ tsp oil to the pan and fry until golden on each side (roughly 3 mins)
5. Start cooking solid vegetables in a large stir fry pan. Once semi-cooked add in any extra softer vegetables, fettuccine (or noodles) and sauce
6. Once combined add some lime juice and tofu. Cook for a further 2 minutes
7. Turn off heat, dish and toppings (sesame seeds and cashews was my personal choice)
8. Sit down and enjoy! 
Want something that takes less than 5 minutes? Super nutritious, full of energy and full of your favourite toppings?Loaded toast is a go-to breakfast, pick me up, pre workout or eat-all-day food
Method:
1. Choose your favourite bread (sprouted whole grain is my fav) 
2. Toast it! 
3. Load with your favourite goodies  
Recommendations:
• Powdered peanut butter or any nut butters for base
• Fruits (bananas, berries, figs etc.)
• Hemp seeds or other protein loaded seeds
• Honey or make vegan with maple syrup/malt syrup
• Cinnamon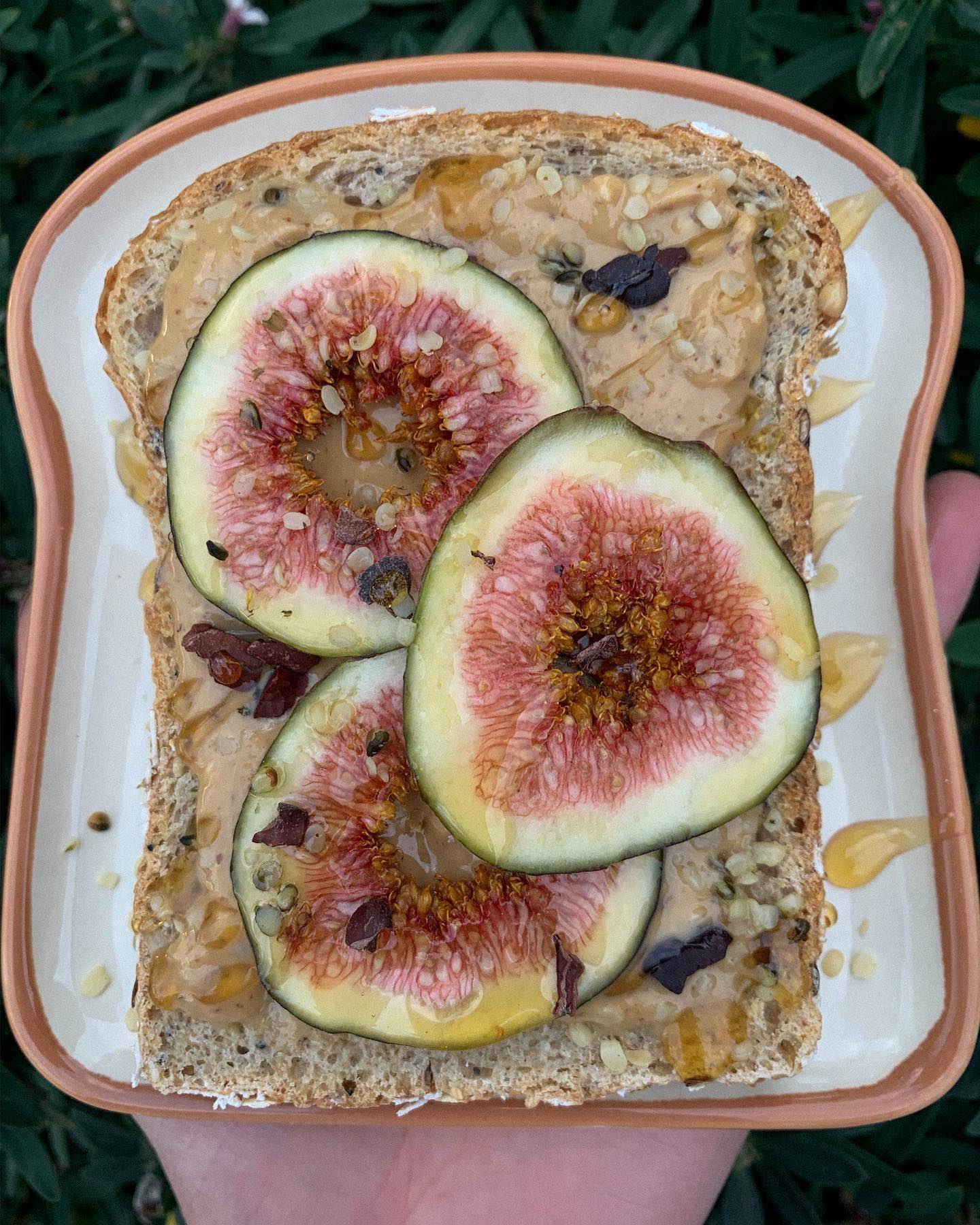 Nutritious meals never looked so easy!
Spice things up with a vegan buddha bowl or vegan stir fry, or go for the surprisingly simple rice paper rolls... and if you want something quick and easy, then the loaded toast is a game!
Be sure to follow Elyssa on Instagram
@delysscious_
 for more inspirational vegan ideas
Which one will you be trying tonight?
And if you're looking for some vegan watches, ethical clothing, or Australian made accessories, be sure to shop the links below!
---