How You Can Help With The 
Bushfire Crisis
With over 1,200 homes destroyed, 5 million hectares burned, 17 people passing away and 500 million animals perished, it is no surprise that Australians are digging deep to help wherever they can.
It's a bushfire crisis, but we are united in our overwhelming support 
An abundance of charities, fundraisers and companies are playing their part, but this can be a bit overwhelming for good-willed people… 
"Where can/should I donate?" 
To help provide some clarity on where you can help, we've compiled a curated list of projects you can support 
Support our state-based brigades by following the links attached: 
• Victoria 
• NSW 
• Queensland (via Givit)
Shelters and animal hospitals have been inundated with injured wildlife throughout this crisis. Here are a few you can get behind: 
• WIRES (Wildlife Information, Rescue and Education Service)
• Mallacoota Wildlife Shelter - BSB: 062649. Acc no: 10126146 
• Port Macquarie Koala Hospital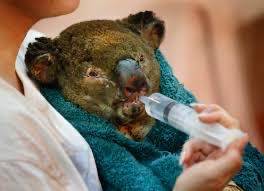 Whilst also accepting financial donations, you can find locations to donate food throughout Australia with the following link
Fire Relief Fund for 
First Nations Communities
Culturally sensitive and tailored support to help our First Nations cover their expenses during this crisis, as well as helping their communities recover. To support them, please click here 
Got A Spare Bed? (people & animals)
Find A Bed Australia connects people and animals who need a place to stay from those generous enough to help. If you can help a person or an animal during this crisis, please click here 
The best coverage, analysis and update we have seen on the crisis below 
There are a plethora of other amazing projects and charities we could list here, but listing them all can create anxiety as we can't solve EVERY problem and donate to EVERY charity
If you're still confused, want to learn more, or have any questions about what we've said, please reach out to us by emailing here. 
Otherwise, we hope you found this useful and please dig deep if you are in a position to do so!
Our nation needs you